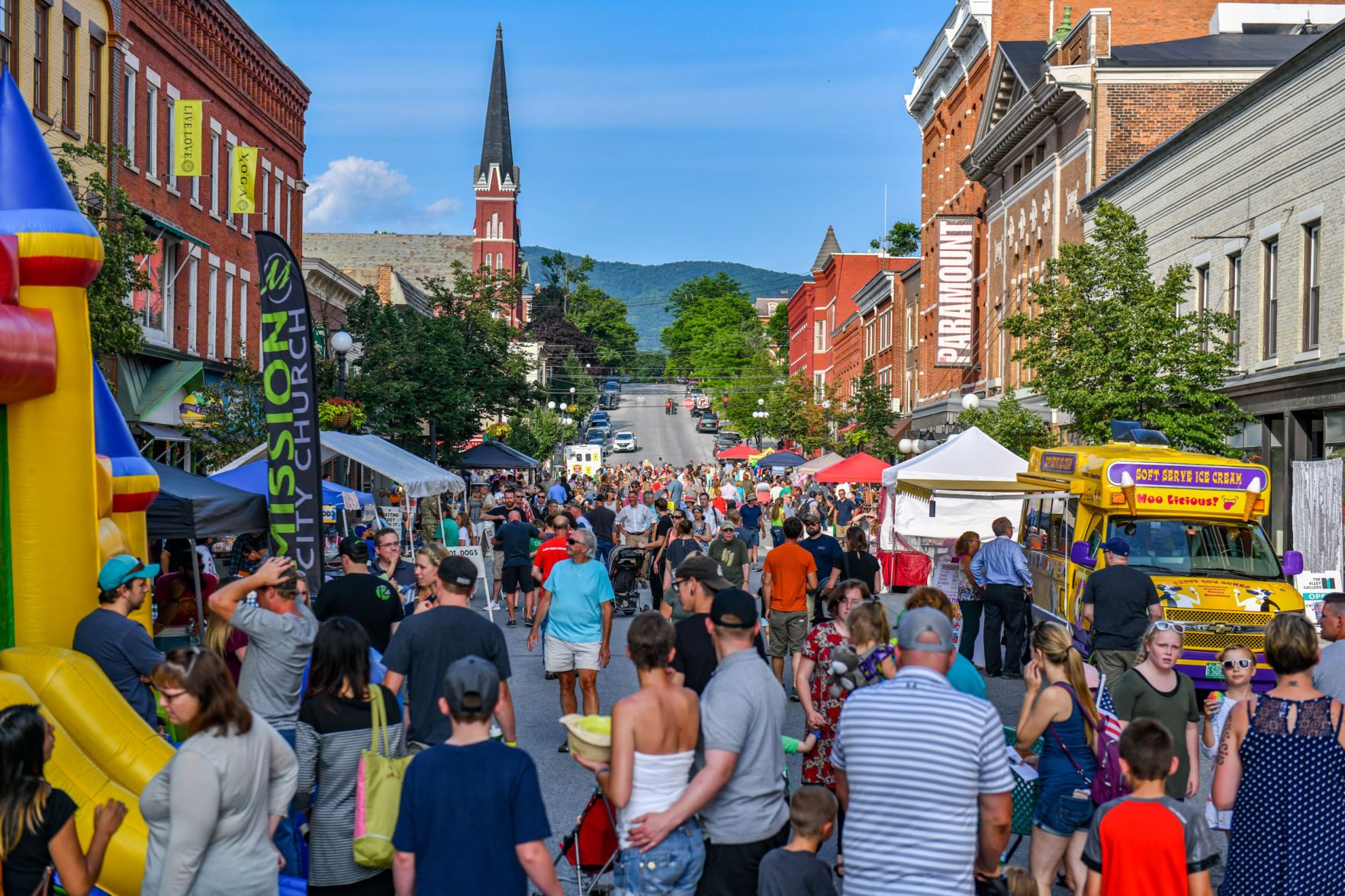 Friday Night Live 2019
Friday Night Live is a free concert series featuring music, outdoor dining, children's activities and more. Headliners perform on Center Street and merchants and vendors set up along the street in open air fashion with fun for the whole family!
Thank you to everyone that came out to Friday Night Live this year! We hope you had as much fun attending as we did organizing. Enjoy the photos from each night, and if you'd like, fill out a brief survey to let us know how to improve next year! Photos by Chris Ingram of Featherwind Creative.
Gold Downtown Event Sponsor
Friday Night Live Stage Sponsor
Friday Night Live 2019 Merchants + Vendors
Alley Gallery
Check out "Exactitude," featuring work by Christian Aaron Mendoza.
The Bookmobile
New and gently used books at affordable prices from a locally-owned store.
Born to Dance
Check out the new studio and register for classes at the open house.
Calypso Connections
Live steel drumming demonstrations by Jennifer Cohen.
Catamount Radio
A live remote from Catamount Radio's on air personalities.
Center Street Saloon
Enjoy drink specials indoors.
Charming Cheeks
Face painting with intricate + fun designs.
Come Alive Outside
Learn about the Summer Passport Program and try out the smoothie bike.
Diamonds and More
Check out a selection of diamonds, and more!
Drum Journeys of Earth
Learn about and take pictures with the skellies of the Rutland Halloween parade.
Frogs and Lily Pads
Browse a large selection of educational, fun and engaging children's toys.
Galactic Toy Drop
Root beer floats by Gailano Construction to benefit BROC's Toys Under the Tree and The Galactic Toy Drop, featuring Ghostbusters, Disney characters, and Star Wars.
Handcarved by Ernie
Hand-carved sandwiches cut and roasted in-house.
Happy Cow Cones
Soft serve ice cream, Hawaiian shaved ice, novelty bars and floats.
Heritage Family Credit Union
Bean bag toss, games and more from our presenting sponsor.
Hideaway Tavern
Enjoy outdoor seating with food, drink, and craft beer options.
Hop'N Moose
Enjoy outdoor seating, Rutland Beer Works drafts, and pub fare or wood-fired pizza.
Lulu Pouf
Organic, all-natural cotton candy in unique flavors freshly spun on-site.
Mama T's Country Kitchen
Texas-style barbecue featuring pulled pork, Brisket BBQ sandwiches, mac n' cheese and chips.
Mission City Church
Mission city church is back with a bouncy house and refreshments.
O'Pablos Food Truck
Mexican fare featuring tacos, fajitas, quesadillas, burritos and more with vegan + gluten free options.
Mr. Ding-a-Ling & Traveling Treats
Hot dogs and your favorite frozen treats from the legendary ice cream truck.
Pelletier's Maple
Fried dough, cold drinks, hamburgers, hot dogs and fries.
Phoenix Books
Story time with Rutland Fire Department on the 12th, choose-your-own-adventure on the 19th, and enjoy the Find Waldo Grand Celebration on the 26th.
Phoenix Inspirations
Henna body art with whimsical, long lasting designs by artist Heather Reynolds.
Rave Car Show Preview
Enjoy classic cars lined up on July 12th as a preview of the RAVE car show on Washington Street.
Richard White
Purchase a copy of the author's new book, Shattered Glass, dedicated to Mill River Students.
Rutland County 4-H Mechanical Bull
Ride a mechanical bull for a small fee to benefit Rutland County 4H on July 19th.
Rutland Free Library
Free, space-themed books and stickers promoting the moon rocks exhibit at RFL.
Rutland Recreation Department
The Rec will host a range of activities including pottery demos, performances and more.
Same Sun of Vermont
Learn about solar energy and play "bounce back" at their booth.
Suicide Prevention Foundation
Paint wellness rocks and gather resources and aid to those affected by suicide.
Taso on Center
Multicultural dishes, unique cocktails and outdoor dining.
The Escape Room
New! Book a room at the grand opening of the Rutland Escape Room.
T & J's Confectionery Delights
Locally-made candies and confections.
Vermont Army National Guard
Interactive activities and 30-minute educational classes on military skills.
Vermont Center for Independent Living
Try a white cane safety demonstration on July 19th the Vermont Association for the Blind and Visually Impared, and a bike safety demo on July 26th with Col Cycling.
Wonderfeet Kids' Museum
Check back soon for activities announcements that are unique for every night!